About WARDJet
Our Company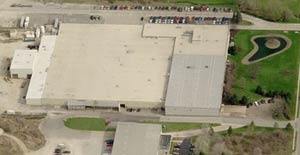 WARDJet Inc., Tallmadge, Ohio is known as an innovative and creative manufacturer of over 30 standard size abrasive waterjet cutting machines in the USA. WARDJet thrives on designing and building custom waterjets integrated into complex processes. Rich Ward started the company in 1995 in his home garage but due to the company's rapid growth it relocated three different times before settling into it's present 220,000 square foot facility. WARDJet believes its outstanding strengths are a team of exceptional people, waterjet systems with 100% remote operation (from a windows cell phone if desired) the WARDJet X-Series controllers, waterjet operating software, almost unlimited expandability into the future and retroactive to every single owner of any WARDJet system. Our goal is that the answer to your question should be YES!
Standard waterjets range from 4' x 5' to 40' x 17' with custom sizes available. We have machines with 15 cutting heads on one cross beam, and can install nine 5-axis cutting heads on a single cross beam. Our patented WARD Pro, is the most widely used abrasive recycling system in the world for over 10 years. All are built 100% in our facility.
WARDJet waterjet systems feature what some consider to be the most advanced, innovative and intuitive motion control systems in the industry. We design and build the Psy-Winder 5-Axis Waterjet Cutting Head, the AROS Waterjet Abrasive Removal System, the XL Waterjet Controller and the X-Classic Waterjet Controller in our factory. Other features and options include drilling, tapping, marking, etching, height-sensing, digitizing, 100% remote operation, built in cameras and more!
Our Goal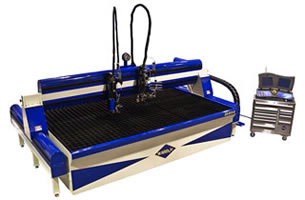 Our focus is to set people's imaginations free when it comes to the automation of almost anything. We provide a CNC platform built around waterjet cutting, but versatile and expandable to have multiple processes added and integrated into our open format software, controller and operation of the machines. We strive to use technology to the extreme making it incredibly easy to operate, service and maintain a WARDJet from anywhere in the world.
We ensure everything we do is retrofitable to the first machine ever sold ensuring no customer is left behind. WARDJet's design philosophy allows your machine to constantly evolve with technology as time passes. This means a 5 year old WARDJet may well have more capabilities and possibilities than a brand new alternate waterjet from another supplier. Call to see how we achieve this as it is amazing. Multiple 5-Axis cutting heads can be retrofitted to any WARDJet waterjet ever built!
WARDJet is sought after in aerospace, nuclear, wind turbine generation, defense, food and general waterjet cutting applications. Customers range from billion dollar companies to single employee / owner / operator job shops.
Our President

Rich Ward is a professional engineer who has specialized in waterjet cutting since 1992. Rich's parents were born in Zimbabwe as was he, completing his A levels in high school and being released from the Rhodesian army in 1977 to attend university in Cape Town, South Africa. Rich began his career in the specialty area of structural concrete design, progressing to heavy construction and open cast mining, employing over 350 people at one stage.
In 1991 he moved his family to the United States, where he first became exposed to waterjet technology. In 1995 he started a waterjet consulting company from home, which also became the largest independent reseller and installer of used waterjet systems in North America. He also started designing and building custom waterjets.
In 1999 he founded a job shop which became one of the largest capacity waterjet job shops in the United States. It was sold in 2003 in order to put all hands-on experience into the design and manufacturing of our own waterjet systems.
As an accredited speaker for the Society of Manufacturing Engineers, Rich has personally conducted over 70 seminars worldwide on waterjet cutting and has authored dozens of articles for publication. Inside Business magazine honors companies from across Northeast Ohio that have exhibited innovation and success. WARDJet received the 2000 Manny Award for creating new, cutting-edge products. Rich is on the board of directors of the AMRC, a joint venture with Boeing, Rolls Royce and the University of Sheffield in Europe.
Richard Ward was the recipient of the WJTA 2001 Technology Award, in recognition of the individual who made major contributions in waterjet technology in the past 2 years. This was specifically for his work in developing the WARD (Waterjet Abrasive Recycling Dispenser). In spite of heavy skepticism, Rich demonstrated that used waterjet abrasives can be recycled and reused effectively. This system, now called the WARD Pro is in use worldwide.
"We love to be told something cannot be done, whereupon we will promptly set out to see if we can. We have fun and you will hear laughter every day at WARDJet. We can afford to be creative because we have a dedicated, focused team of people who are constantly extended and encouraged to innovate and think outside the box. We build relationships with our customers and enjoy what we do. This is what makes WARDJet different and you can be a part of this dynamic team too. We are a call away."
-Rich Ward