Waterjet Grates
WARDJet provides you with four different grating options; each one is specific to a different application. These options allow you to use the best system every time, no matter what type of material you need to cut. Each type of grate can be quickly loaded into or removed from your waterjet table using a forklift. All four types of grates come in standard sizing, but can also be custom fit for any size waterjet tank.
In-House Manufacturing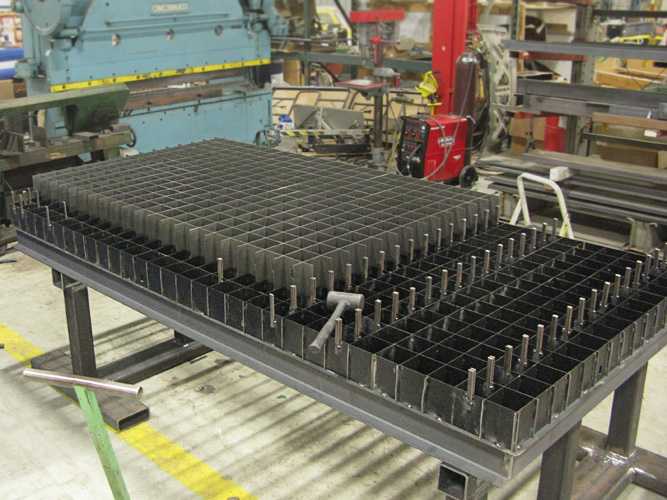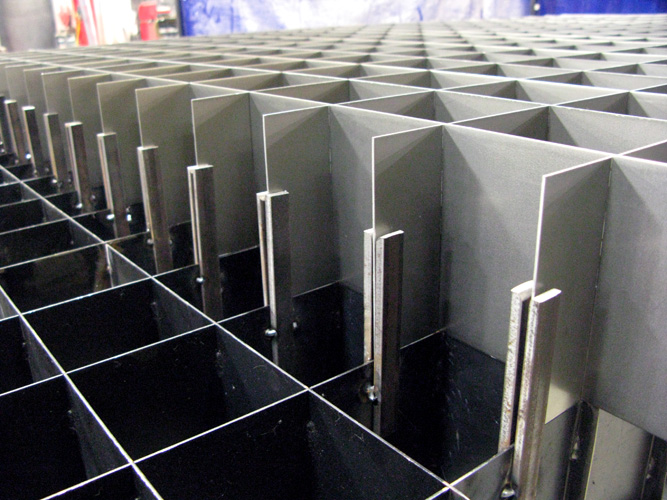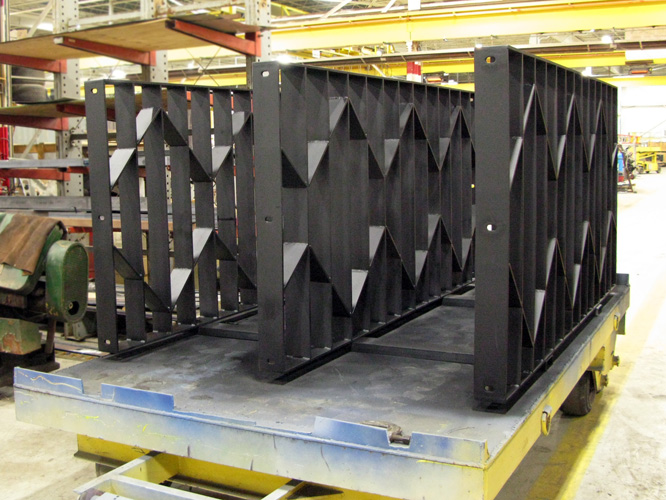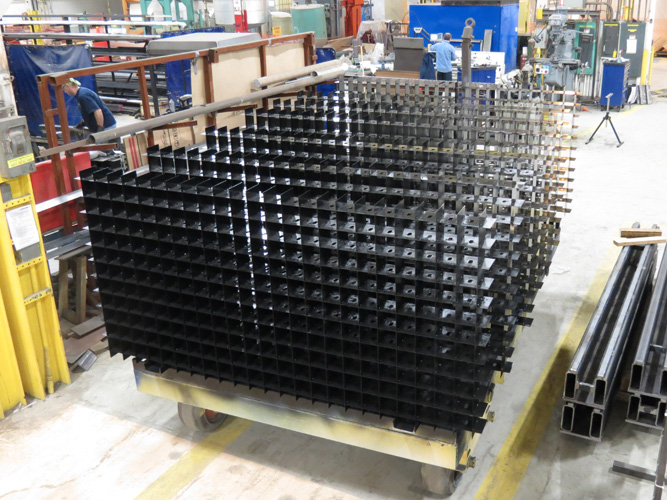 Our grates are manufactured in-house, allowing us the flexibility to build custom grate sizes for any waterjet! If you have a particular or unique application, we can provide any size.
WARDJet Modular Job Shop Grates
This revolutionary grating, clamping, and fixturing system has been designed with the user in mind. Everything about this system is efficient and easy-to-use. The flat, rigid design can eliminate movement of parts during cutting. Grates are made up of 4" x 4" squares 5" deep - all welded. The thinner 16 gauge steel construction substantially reduces back-spray and kickback. These grates are designed to be completely reversible therefore doubling the life of your grates. The design of the job shop grates allows you to use our WARDJet clamps to secure material anywhere on the cutting table. After years of operating our own job shop, we understand the difference it can make to be able to load, clamp, and unload parts as quickly as possible. We have used these grates in "real life" situations and they have definitely stood up to the test.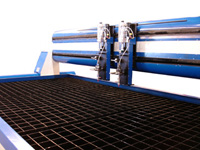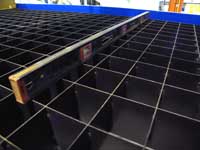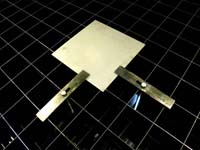 Water-only Grates
The water-only grating system is perfect if your application does not require cutting with abrasive. The unique design of these plastic bricks drains water away from the cutting area while reducing back-spray during cutting. The specially designed polypropylene materials resist delamination or loss of shape. These bricks come in pallets of 40 bricks with a steel frame holding 12 bricks at one time. The frame has an expanded steel mesh base that will support the plastic bricks, extending the life of the bricks substantially. The frame makes it possible to use a forklift to remove the entire frame out of the tank or to load the entire frame on top of the job shop or heavy-duty grates, hence allowing you to switch from abrasive to water-only cutting in just minutes. With the water-only grates on top of the job shop grates, you still have approximately 7" of cutting height on a WARDJet waterjet!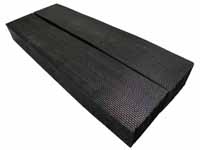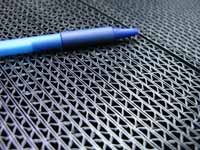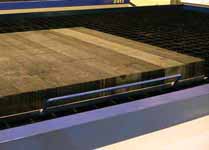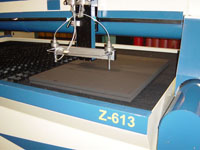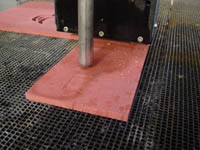 Heavy-Duty Grates
If you cut heavier, thicker materials, this grating and clamping system is designed for you. Made from ½" thick steel, these grates can support your heaviest materials. The 8" spaces between the slats in the grates allow you to cut thicker materials at slower speeds. Any deep cuts in the grates can easily be repaired, effectively giving the heavy-duty grates an unlimited life. By creating jigs so that the majority of the cutting is done over an open space in the grates, you will be able to cut in the same spot again and again without cutting into your grates. These grates have been designed for daily, intense work.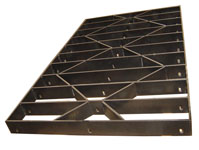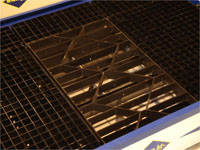 JETSLAB® Cutting Bed for Stone
This revolutionary concept came from the proven use of the bridge saw in a stone fabrication shop. WARDJet recognized that the same concrete cutting bed principle could be applied to a waterjet. That is, material can be cut directly on top of the concrete cutting bed, creating small cuts into the concrete. Easily screed over with a sand-cement grout at week's (or day's) end to restore them to their original condition, just as you would maintain your bridge saw bed. These grates are an ideal choice for cutting tile or granite slabs because they provide full support for the material throughout the cutting process. They also allow for cutting of small parts, as it is almost impossible for them to fall into the tank as they stay on top of the concrete. Come visit us and let us prove to you how the JETSLAB® can assist you in your stone cutting.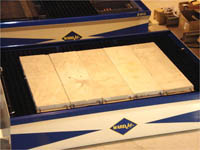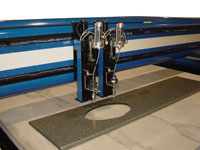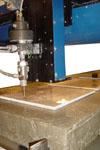 External Loading Platform (ELP)
Increase your cutting efficiency and revenue with reduced loading time using the WARDJet External Loading Platform (ELP). Load and unload your work on the ELP while your machine is still cutting.
Regardless of the make or size of the waterjet purchased, every waterjet owner / operator will face the same limiting "bottleneck" issue: the time it takes to load and unload the machine. If you don't hear that hissing sound, you are not making money! WARDJet realizes this and developed a way to get the maximum cutting time per hour on a system.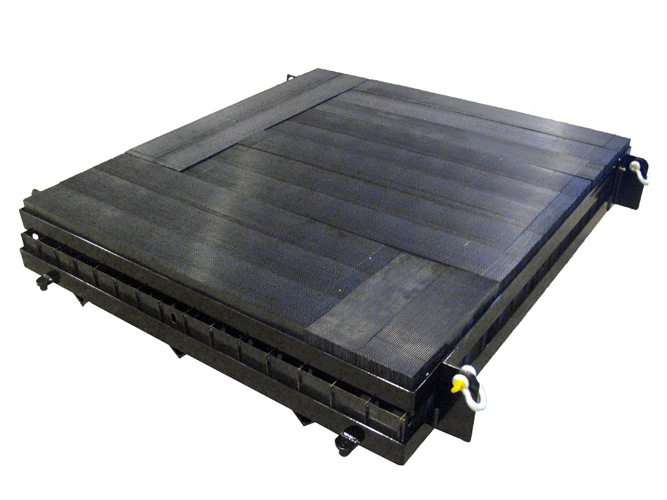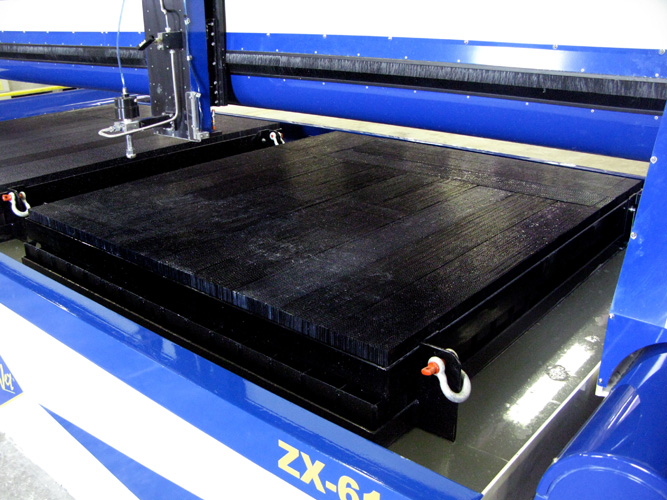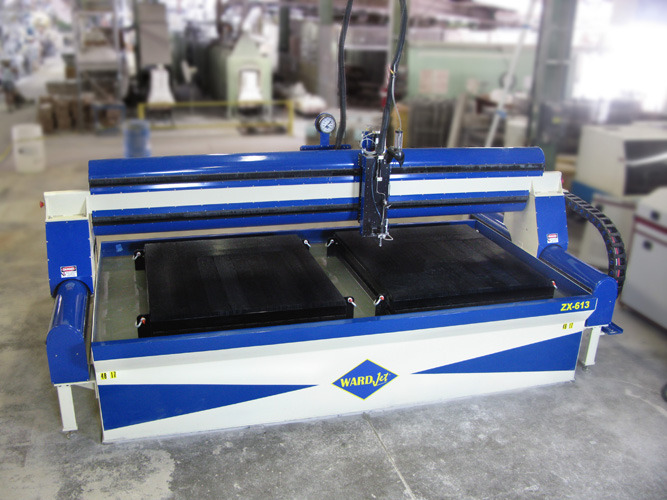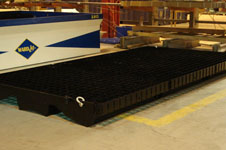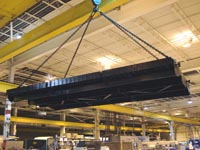 The WARDJet job shop grates were developed and tested over years, and now, WARDJet has used this concept to integrate it in a steel frame that allows all the grates to be removed or placed in the tank in less than 5 minutes. This is called the WARDJet External Loading Platform or ELP.
Advantages of the ELP are numerous:
The total cutting area can be fully loaded with multiple jobs on the one platform set up
By loading multiple jobs, it is the equivalent of having several machines on the floor
Time lost going from one job to another is limited as they are already on the table
The WARDJet job shop grates allow all parts to be clamped down onto the grates, even though the ELP may be outside of the tank
If the

WARD

Jet

height sensors are installed, it is possible to combine all the programs to run as one program. Even though the materials are different types and thicknesses, it is possible to have the cutting head find the height of each material and cut each part as programmed - all automatically
While the waterjet is cutting parts, another ELP can be offloaded, and preloaded ready to swap out in minutes.
Preloading and unloading of the ELP can be done with access to every square inch of the grates without having to climb onto the table.
The WARDJet integrated clamping system allows all parts to be clamped down to the table while outside the tank and still be in the same position during cutting
Where there are a lot of small pieces that need to be cut, it is easy to remove these once the entire ELP is out of the tank
Stone cutting and removal of small pieces is made a breeze with the ELP.
WARDJet concrete grates fit on top of the ELP - so if you are cutting fine inlays in stone, ceramic, tile, etc., this can easily be done and then unloaded away from the table while more work is loaded and cutting in less than 5 minutes.
The result - a MASSIVE increase in efficiency and reduction in down time from loading and unloading work.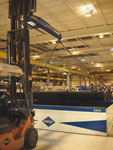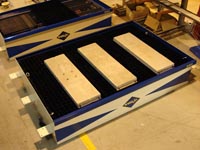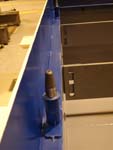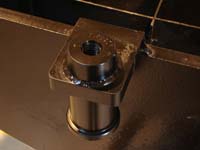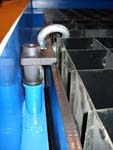 The WARDJet external loading platform is just another way WARDJet are thinking, designing, planning, and building ahead for you, our partners in our future.
Slats
WARDJet also offers slats as a grating option. Though often overlooked as a grating support system, in some cases, this is considered the best solution. We can provide slats for your machine; WARDJet machines are built to use slats easily.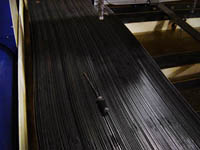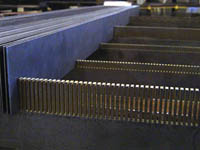 For more information on what grating solution might be the best for you please contact us. Please feel free to fill out our Sales Request Form to learn more.