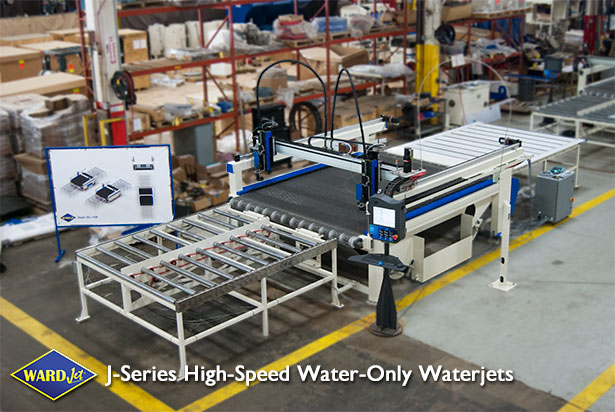 Model
Length
Width
Z Height
J-128
12 ft (3.6 m)
8 ft (2.4 m)
12 in
J-108
10 ft (3 m)
8 ft (2.4 m)
12 in
J-106
10 ft (3 m)
6 ft (1.8 m)
12 in
Custom
Contact us!
J-128
Cutting Envelope:
12ft x 8ft
Z-Height:
12 inches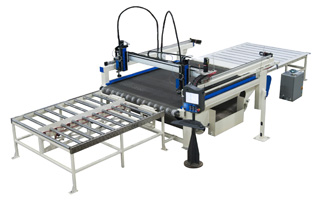 J-108
Cutting Envelope:
10ft x 8ft
Z-Height:
12 inches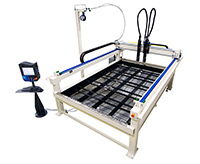 J-106
Cutting Envelope:
10ft x 6ft
Z-Height:
12 inches
Request More Information →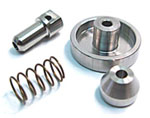 WARDJet supplies parts for WARDJet waterjets and for most makes and models of waterjets. Read More »
J-Series Features
Safety
Many safety features ensure safe operation for your people and business.
Speed
It's fast. Speeds of 3000 inches per minute or 50 inches per second are achievable.
High acceleration / deceleration values are standard allowing small parts to be cut quickly.
*Acceleration of 0.6 meters per second squared is standard.
Loading Material
Material can be fed through the machine from all 4 sides.
Moveable Controller
The controller can be positioned anywhere around the machine - several times a day. You are not limited to one location for the controller.
E-Stop, Forward, and Reverse
E-Stop, forward, and reverse buttons can be operated from all 4 corners of the machine, allowing the entire system to be loaded, run, and unloaded by one operator.
Self Loading
Self loading systems, either bun loaders or chain feed systems are available.
Pinch rollers are available to feed the system - all synchronized to the speed of the chain.
Laser Sensors
Laser sensors will allow automatic loading and unloading of the materials.
Rolls & Sheets
Load either large rolls of material or sheets.
Features & Accessories
Remote access, bar code reading, marking, wireless pendent operation, multiple heads and multiple functionality are just some of the features and accessories.
Upgradeable
All systems are upgradeable as you grow.
Want to know more?
Please call or visit us to learn more about this standard, proven, tested, and tried unit. You will be impressed.
*Speed is based on a single head configuration. Adding more heads and/or options will affect speed, acceleration, and accuracy.
Shuttle Tables on Chain Conveyor
| | |
| --- | --- |
| Shuttle Tables on Chain Conveyor | Shuttle Tables on Chain Conveyor |
JXL-106
JXL-128
J-Series Waterjet Features and Options
JX-7025 Large Format Waterjet with Shuttle Tables

Request More Info
Contact our Sale Dept.


Save on Your Taxes
Section 179 Tax Incentives

J-Series Waterjets
The J-Series waterjets have been designed for the end user who specializes in cutting materials with PURE WATER such as:
Foam, rubber, insulation, plastic, acrylics, cloth, leather, fiber board, etc...

In some cases fiberglass, carbon fiber, and wood are cut with pure water waterjets, but better results may be achieved using an abrasive system.
Important principles for PURE WATER waterjet cutting:
Material is often light
Material cannot get wet
Quantities of parts are often very high - thousands to millions
Speed is critical
Handling of the materials is often bulky and cumbersome
Sizes of raw materials vary from product to product
The materials can often be cut at very high speeds
The J-Series were designed to accommodate all the above situations and criteria.
You could increase your production substantially with one WARDJet J-Series pure water waterjet!
Videos
Layouts
Downloads

WARDJet Water Only Catalog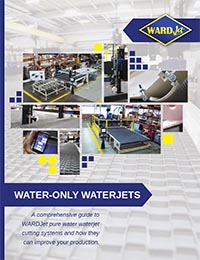 WARDJet Waterjet Product Catalog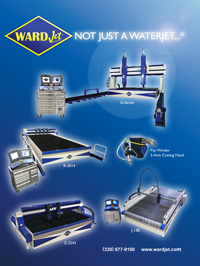 More to Consider