Open House Showcasing Waterjet Cutting Developments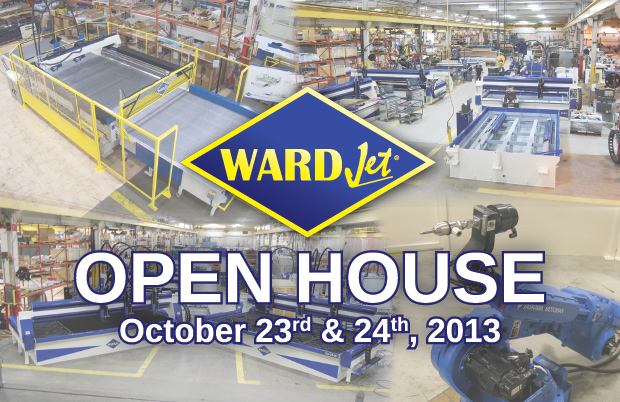 WARDJet held the first annual Open House event on October 23rd and October 24th, 2013 at the headquarters in Tallmadge, Ohio. The Open House was scheduled with live floor demonstrations complemented by simultaneous conference room presentations covering a variety of topics. As a result, visitors were encouraged to choose whichever parts of the event they would like to attend and many guests moved freely throughout the WARDJet facility. WARDJet employees and partners were on hand to answer questions and discuss machine capabilities one-on-one with those interested in more information.
During the Open House event, guests were introduced to the Multipurpose Waterjet Robot which carved the face of a small foam pumpkin at the beginning of every hour. Robot industry leader Motoman was on hand to discuss applications where a waterjet robot would be used and describe the technology behind the machine. Guests also were introduced to the low cost Emerald Series waterjet which features a smaller footprint and basic capabilities, but uses the same state-of-the-art software, controller, and precision ballscrew drive system as many WARDJet waterjets. The Emerald was programmed to cut a miniature dinosaur out of stacked foam to illustrate the versatility of waterjet system.
The event was open to the public and many customers, businesses, students, officials, and press attended. Notable guests include Mayor David Kline from the City of Tallmadge, as well as Ohio State Representative Anthony DeVitis and WARDJet-sponsored pro snowboarder Steve 'Speedy Steve' MacCutcheon. WARDJet thoroughly enjoyed the opportunity to meet with so many interesting individuals and share some of the waterjet innovations we have been developing over the past few months.
Demonstration of 6-Axis Robotic Waterjet
Photos from the Event