WARDJet/AMRC Open House in the UK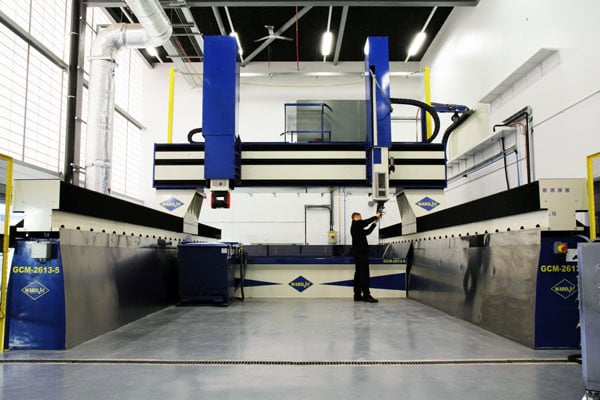 WARDJet, a leader in waterjet innovation, was proud to co-host with the University of Sheffield Advanced Manufacturing Research Centre with Boeing an open house in Sheffield, UK at the end of January 2013. The main attraction was the newly installed GCM-Series 5-axis waterjet and 5-axis composite mill.
This unique combination machine was designed to allow a single part to be processed with 24,000 rpm 5-axis milling and 5-axis waterjet cutting without moving the part. The cutting envelope is split with one section having a standard waterjet tank, leaving the remainder of the cutting envelope open to allow very large parts to be mounted onto the floor. The cutting envelope also allows 5 feet (1.5 meters) of Z travel for both the mill and the waterjet.

For the event, the GCM Series waterjet cut and milled a carbon fiber cylinder with the dimensions of OD 26.7" (679 mm) x Height 28.2" (717 mm) with both of the co-hosts' logos. The diamond of the WARDJet logo was milled into the 5 mm wall at a depth of approximately 2 mm. A fixture was prepared by our WARDJet engineer to hold the large cylinder on the cutting table and to absorb the remaining energy of the waterjet stream to protect the opposite side of the cylinder.
The event included an introduction to the state-of-the-art AMRC with Boeing's history and goals followed by a speech by WARDJet owner, Richard Ward, about the newest technology in waterjet cutting. Immediately following, attendees enjoyed a tour of the AMRC with Boeing facility which culminated with time at the GCM-Series waterjet. After a dry run of the carbon fiber cylinder demonstration part, attendees interacted with the machine and discussed its capabilities with the WARDJet representatives.
If you have any questions about this unique machine and its capabilities, please feel free to contact us at sales@wardjet.com.
Open House