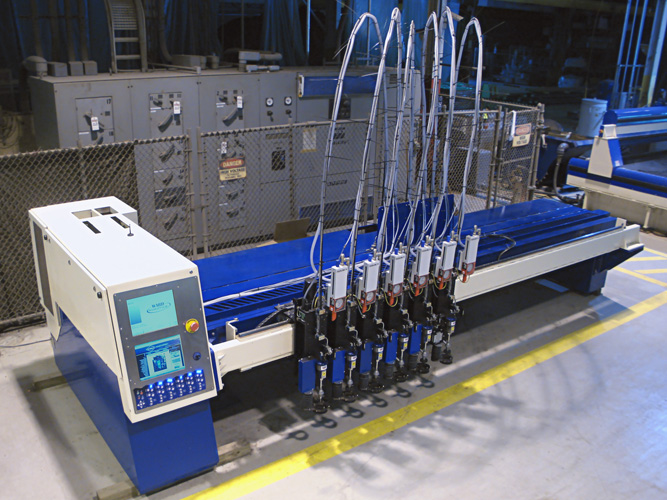 A customer needed to cut 5' diameter discs out of 10" thick material as quickly and efficiently as possible. Having purchased several older plasma cutting gantries, they wanted to retrofit one of the machines for waterjet cutting. WARDJet's challenge was to turn this old machine into a state- of-the-art waterjet cutting machine capable of cutting as many of these discs as possible in the most timely and cost-efficient manner.
WARDJet's answer was to custom engineer a solution that added WARDJet's waterjet technology and state-of-the-art features to the existing machine. The first step was to engineer a custom crossbeam to fit onto the existing machine that could accommodate the multiple cutting heads needed for this particular application. While this would normally take a long time and several drawing revisions for the custom beam to fit the machine properly, WARDJet was able to use their extensive line of metrology equipment (including a FARO Laser Tracker) to precisely engineer, fabricate and machine the piece so that it attached onto the existing machine like a prefabricated part. After the beam was put into place, the next task was to design an entirely new way of cutting.
WARDJet's six independent head waterjet cutting gantry is able to cut three of the customer's required discs simultaneously. The large number of cutting heads needed for the application presented several hurdles that needed to be overcome in order to be successful. The most interesting challenge, and the most fun, was how to get six cutting heads to all cut the same part, with half of them cutting in opposite directions (part mirroring). The machine needed to be able to do all of this and more, while remaining within the tight tolerances that all WARDJet machines are known for. WARDJet's sister company WARD ROBOTICS created an innovative solution for the machine that uses an air clamping system which allows all six heads to be driven independently and still communicate with each other, allowing a single symmetrical part to be cut by two heads at a time. This effectively reduces cutting time in half and in this case allowed us to cut six times faster than a single headed machine. All of the design, coding, engineering and fabrication were performed in house at WARDJet, keeping the cost as low as possible for the customer.
It's solutions like this that prove that at WARDJet you don't "just" get a waterjet. You get something far more valuable - a team of engineers, programmers and fabricators who are all dedicated and committed to fulfilling your company's needs, whatever they may be. Call WARDJet today to see if one of our systems is right for you.