Unique Features of R-Series Waterjet Offer Competitive Edge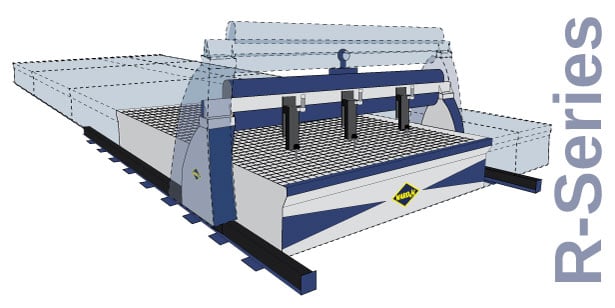 WARDJet's R-Series is a waterjet in a category of its own. With an exceptionally heavy duty design, the R-Series is a powerful, robust and dependable workhorse offering the finest of control with optional 5 axis cutting on 12" or 36" Z travel. Customers love the R-Series for its expandability since tank width, tank length, and Z height are all factors that can be changed as required. As a testament to the quality of the R-Series waterjet, WARDJet has manufactured countless R's that are currently used to cut materials all over the globe.
R-Series waterjets feature a precision ground helical rack and split pinion drive with zero backlash and exceptional positional and repeatable accuracy over the entire cutting envelope. No matter how large the tank, the same ultra-high tolerances are quoted on all R-Series units. WARDJet offers many standard sized R-Series waterjets for customers with cutting envelopes ranging from 13' x 13' to 44' x 20' and all R-Series can be specified with 12" Z or 36" Z travel. Custom size R-Series waterjets are easy to produce as fabrication and assembly is performed 100% in WARDJet's factory. The full range of accessories are designed to work with the R-Series, including multiple 5-axis heads, rotary axis, drills, taps, bar code readers, wireless hand-held pendants and many more. Almost all of these options and accessories can be retrofitted to the R-Series at any time.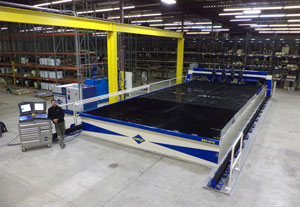 A quick glance of recently shipped R-Series includes an R-4016 where 4 heads were installed with a cutting envelope of 40 feet x 16.5 feet. This R-4016 waterjet was the second WARDJet purchased by the customer over a 5 year period. On occasion, when tanks have been too wide to travel down the road or fit through customer doors, the tanks have been shipped in two or three pieces and welded together on site. Combining 5 axis heads with programmable Z's and rotary axis is becoming an expected reality.
The R-3014 system with a 30' x 14' cutting envelope is the most popular R-Series, and WARDJet recently customized an R-3014 to feature dual specialized cutting areas. This allowed the customer to accept a contract to cut 8 million lbs. of 5.5" thick stainless for a specific project in the one half of the tank while still using the back half of the tank for standard cutting on Job Shop Grates™. It also optimized production by permitting each side to be loaded independently without stopping cutting.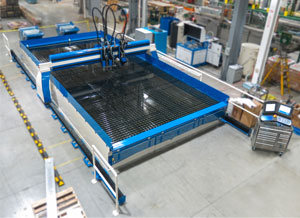 All R-Series waterjets are run and tested in WARDJet's factory. A short set of rails allow the crossbeam with cutting heads and risers to be run the same during assembly in-house as if it were installed on the customers floor. Ball bar readings and laser mapping of the crossbeam is also possible prior to shipping if requested. When WARDJet is installing the long side rails on site, Faro Laser Tracking equipment is used to ensure the rails are straight, level and parallel to one another.
There is no doubt the WARDJet R-Series is built to last. Many customers are so happy with their R-Series waterjet that they order multiple units for multiple locations.
Get more information on the R-Series waterjets by contacting WARDJet at sales@wardjet.com or by visiting the R-Series webpage.
Job Shop Grates™ Optimize Waterjet Cutting on Any Waterjet
Get the most out of your waterjet, regardless of make or brand, by using WARDJet's revolutionary Job Shop Grates™. "Running a waterjet without Job Shop Grates is like driving a car with no air in the tires" says Tim Ghrist, an experienced waterjet operator. "By setting up multiple jobs on the Job Shop Grates to cut all at once, I am constantly beating the production schedule - sometimes by as much as 50% with almost no loss in time to load and unload."
After recognizing that many traditional support methods were negatively impacting waterjet productivity, WARDJet developed the Job Shop Grates support system. Designed in a grid layout, Job Shop Grates are rigid, stable and make it easy to clamp material anywhere on the table. Additionally, Job Shop Grates are flat and parallel to the travel of cutting heads which allows waterjet operators to be confident that nozzle distance from the Job Shop Grates is constant across the cutting area. This is a critical factor in cutting quality parts. Stream deflection issues are reduced in Job Shop Grates by using 1/16" steel instead of the 1/8" in traditional slat supports. WARDJet engineered Job Shop Grates so that they are able to be used from the front or back of the machine and also flipped over or rotated to increase cutting life. The benefits of Job Shop Grates are not limited to existing WARDJet owners; WARDJet is also able to create custom sized grates to fit almost any make and model waterjet tank.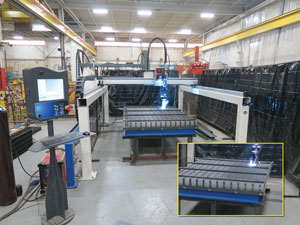 Many of the advantages of the Job Shop Grates can be accredited to the development of the WARDJet Weldbot. Once Job Shop Grates were designed, WARDJet realized that there was a solution to create high quality, repeatable grates by implementing CNC waterjet technology. Using a welding robot attached to a mechanized gantry reduced the time it took to create one set of Job Shop Grates from six hours to two hours and eight minutes. The Weldbot is able to run the Job Shop Grates program independently without any human interaction and produces the highest quality grates with more consistent welds than is possible by hand. This allows WARDJet to save on overhead costs and lower the Job Shop Grates price for customers.
The real proof of success for Job Shop Grates are the customers who keep returning to WARDJet to order again. In fact, WARDJet is so confident that the Job Shop Grates can positively impact waterjet cutting production that they are offering a credit towards Job Shop Grates for every $1,000 spent on waterjet parts from WARDJet. Get more information about the Job Shop Grates waterjet support system and how it can optimize cutting on your waterjet by visiting the Grates webpage or by contacting a WARDJet representative at sales@wardjet.com.

Click here to view the WARDJet August 2013 Newsletter as a PDF
Abrasive Removal Made Easy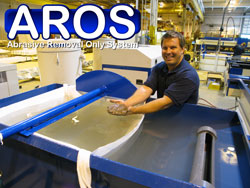 Using only a compressed air hose you can reduce the need for labor-intensive and expensive tank dig outs by incorporating an Abrasive Only Removal System (AROS) to your waterjet cutting machine! Any downtime required to dig out a tank means a loss on profit from your waterjet cutter. With the AROS, the buildup of used abrasive in the tank is significantly reduced at a minimal cost to the waterjet owner. WARDJet's AROS machine is capable of being used with any brand waterjet and is the highest selling product at WARDJet.
How it works: The AROS removes abrasive and kerf material from the waterjet tank through a series of pipes which are connected to an in-tank plumbing system. Once outside of the tank, used sludge abrasive and kerf materials settle in a reusable 2,000lb bag to allow the free water to separate out. The water then flows back into the waterjet tank for reuse. The reusable 2,000lb AROS bags are specially made to allow free water to drain out so the abrasive can be easily handled or disposed of.
Many savvy waterjet owners opt to take the used abrasive from the AROS and recycle it using the WARD Pro Abrasive Recycling System to save on consumable costs. In fact, the AROS is the front end of the WARD Pro recycling system and acts as the first step of the abrasive recycling process. If you ever think you will want to recycle abrasive in the future, you will already be on your way there by using the AROS.
The AROS has proven itself to be the most popular add-on accessory in the WARDJet product line. Because abrasive removal is universally necessary with abrasive waterjet cutting, you can see why customers often choose the AROS when adding to their waterjet system!
Dig out your tank one last time and install the AROS system in your waterjet. You won't be sorry!
Extend the Life of Orifice and Components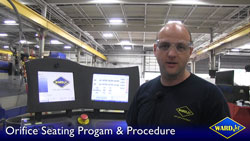 When replacing an orifice on your waterjet, seating the orifice properly is critical to successful cutting. The innovative minds at WARDJet have a solution to help with this! The latest version of Ikuhlu gives waterjet operators access to a program that, with a few clicks, can automate the orifice seating process quickly and reliably. Even if you aren't using a WARDJet, this video explains the proper procedure to install a new orifice. Watch as our Technical Support Manager explains the process here.