WARD Pro: Cut on Your Waterjet for Less!
"Since we installed our WARD PRO we are averaging over 75% recovery and have not purchased any abrasive for the last 2 months as we rely 100% on recycled abrasive. It has changed the way think about waterjet cutting forever."
ABB - USA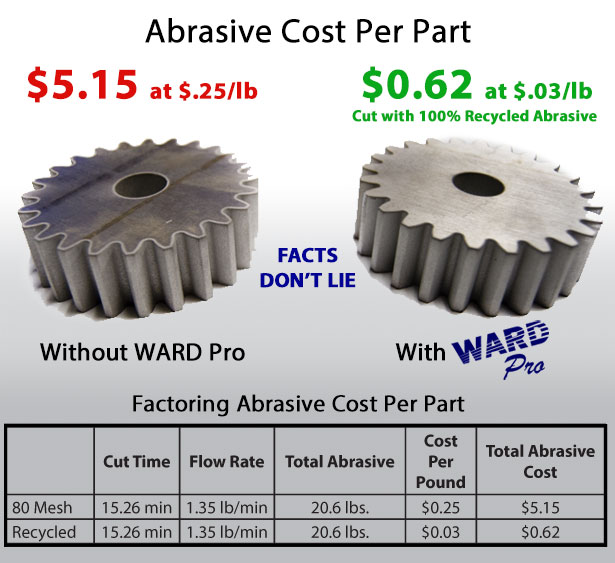 Same part! • Same abrasive flow! • Same cut speed!

Can I Recycle My Abrasive?
Whether or not you can recycle your abrasive is a question of the materials you cut. While most materials do not introduce particles or fibers that will hinder the recycling process into the water and abrasive, there are certain instances where recycling may not be possible.
YOU CANNOT RECYCLE IF YOU CUT:
Cut at 90,000psi (Reduce your pressure to 60k and it will work)
Large Volumes of Wood
Large Volumes of Anything that Floats, has Fibers, or Melts
Using Plastic Cutting Bricks as a Grating or Support Structure
Large Volumes of Composites with a Melting Point Below 350 Degrees Fahrenheit (Most composites can be recycled)
If you are unsure whether these issues apply or if you have a unique application, please contact WARDJet for more information.
How Much Can I Save By Recycling?
Your savings will depend on a number of factors, most important being how much abrasive you use and your current pricing of abrasive. With the WARD Pro, you are able to recover varying percentages of your abrasive. The more you recover, the more you save. Please note that as the recovery percentage increases, you will see a small decline in your hourly recycled abrasive output. Place your information in the calculator below to find how the patented WARD Pro can cut your abrasive costs.
*Pricing for US and Canada. Please Contact WARDJet for international pricing.
This calculator is provided for informational use only and is not intended for production or production planning. Actual results may vary depending on utility costs and operation of the WARD Pro.
How Do I Cut for Less?
It's simple: recycle and reuse your abrasive. After all, abrasive can make up to 50% of the costs of running an abrasive waterjet. The Patented WARD Pro allows you to reclaim upwards of 60% of your used abrasive. You paid good money for that abrasive. Stop throwing that money away.

With our abrasive removal system (AROS) that serves as the front end of the WARD Pro, time and man power needed to dig out your waterjet tank on a regular basis is minimized. Less downtime and more cutting means more profit.
How Can Recycled Abrasive Cut as Fast as New?
To be clear, there are differences in new abrasive when compared to recycled abrasive. As you can see from the chart below, both new and recycled abrasive are composed of certain percentages of various abrasive mesh sizes. What we find is that recycled abrasive tends to be composed of slightly finer mesh abrasive than new. Conventional wisdom would dictate that a finer mesh means you need to cut at a slower speed or increase your abrasive feed rate. In recycling of abrasive however, this is not the case.
When abrasive is new, there is a certain percentage of other minerals or "filler" that is found. In the comparison images below, you can see these as the darker particles. After going through the cutting process, these softer minerals are shattered into extremely small particles that are filtered out at the first stage of the WARD Pro recycling process. The result is such that abrasive recycled with the WARD Pro system does not have that "filler" material present. This makes for abrasive more densely packed with the garnet that is doing the actual cutting. In fact, comparing at the same volume, recycled abrasive weighs more than new abrasive.
After more than 10 years of testing, we have seen no need for reduced cutting speed when using recycled abrasive.
Soft Minerals Pulverized in the Cutting Process
(Filler almost completely removed during recycling)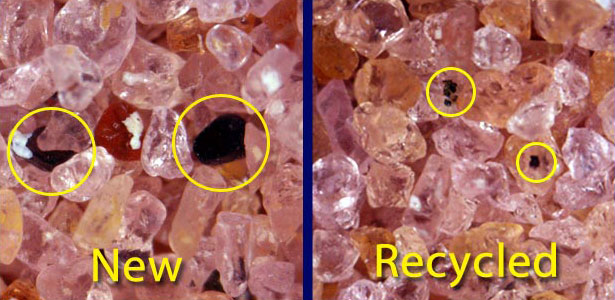 Does Recycled Abrasive Cut as Well?
You be the judge:
Both of the parts in the video were cut from the same 1" aluminum. They were cut at the same speed and with the same abrasive flow rate. As you can see, edge quality of both parts is the same.

These photos show the identical cut, one with new and one with 100% recycled abrasive.
The Numbers
Typically, the WARD Pro can reclaim 50-65% of your used abrasive, making it as good as new.
1 pound of new abrasive averages $.25. 1 pound of used abrasive averages $.03. The $.03 covers the cost of WARD Pro consumables, power, and water. The cost difference is undeniable.
Go Green and Save Green
"Going green" often costs companies money, but not with the WARD Pro. The WARD Pro has been engineered to assist you in cutting costs, but a nice side-effect is its help for the environment. While the WARD Pro does require fresh water for some of its functions, much of the water that is used is from your waterjet tank and is returned to the tank after use. Reusing your abrasive also reduces the debris that gets sent to landfills or is disposed of in other methods.
Send us your used abrasive, and we'll test its recyclability for free! Contact our Sales department at sales@wardjet.com to find out how to get your abrasive tested.