L-3025
Tailored Waterjet Solutions
Tailored Waterjet Solutions

The L-3025 waterjet features the highest cutting speed of any water-only waterjet at WARDJet. With an extremely robust frame, the L-3025 allows for the addition of many heavy duty options, such as 5-Axis cutting heads, cameras, and height sensors. Increase water-only production on your L-3025 waterjet even further by including one of the many material handling options, like programmable chain conveyors, pinch feed rollers and squaring guides.
Footprint
37.1' x 15'
11.32 m x 4.57 m
One Carriage X-Y Cutting Area
120" x 99.6"
3.05 m x 2.53 m
Software
IKUHLU, WARDCAM
IKUHLU, WARDCAM
Power Requirements (Gantry Only)
460V 30 amps, Three Phase
460V 30 amps, Three Phase
Air Requirements
80 psi, 2 cfm
5.52 bar, 0.06 cmm
Max Number of Z-Carriages
4
4
Drive Mechanism
Linear Drive
Linear Drive
Linear Positional Accuracy
± 0.003" per axis
± 0.08 mm per axis
Repeatability
± 0.001" per axis
± 0.03 mm per axis
Speed
0.01 in/min - 7000 in/min
0.25 mm/min - 178 m/min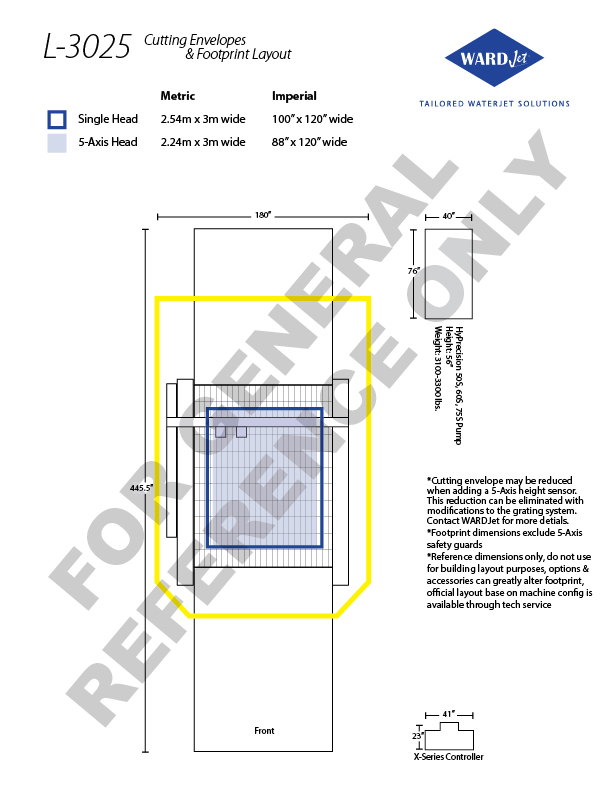 Get in touch
Join our team
We are always looking for knowledgeable people who are passionate about delivering an exceptional customer experience. Let's talk!