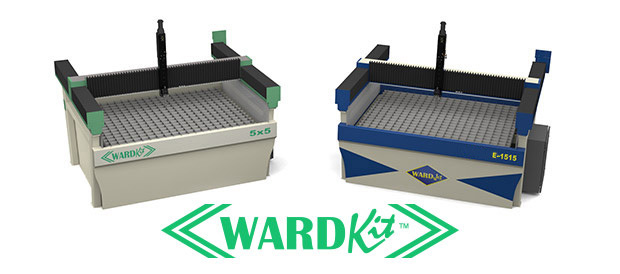 Introducing the brand new WARDKit Series of waterjet cutting systems! Never before has a manufacturer offered a top-of-the-line waterjet system that they currently sell in kit form. The WARDKit is virtually identical to our highly accurate E-Series of waterjets but costs about 40% less. In fact, WARDKit waterjet owners get the same quality, engineering, software, and design of the E- Series in an easy-to-assemble kit manufactured entirely in America.
Adding a waterjet to your shop has never been more easy, more affordable, or more fun! Click for more information on the WARDKit…
The WARDKit Features
Available in 2' x 2', 5' x 5', and 5' x 10'
Ballscrew driven for outstanding accuracy
Starting at $65k
Financing available
The WARDKit includes
Step-by-step instructions
Waterjet tank
Cutting head
Grates
Intensifier pump
PC-based laptop controller

WARDJet is an innovative and creative manufacturer of abrasive waterjet cutting machines. We design and build machines for almost any process automation need and offer customized options that allow you to set your imagination free. Because we control every phase of design and manufacturing, we are able to ensure precision and maintain strict quality control.
A waterjet cutting system designed by WARDJet will provide you with the most versatile CNC automation platform in the industry. Our cutting edge waterjet designs will provide you with the versatility you need and accessories that are easy to install at any time. Our in-house manufacturing capabilities allow us to build waterjet cutting machines to your exact specifications. Your waterjet will be expandable and upgradeable to meet the ever-evolving needs of your company.
Subscribe!
Subscribe to our newsletter for updates.

Why Z-2543 Versus Z-2043?


Waterjet Cutting Speed Calculator

Inifini Winder 5-axis Cutting Head Manufactured under license from Techni Waterjet
Pty Ltd of US Patent No. 8540552