Go behind the scenes and learn about the inner workings of WARDJet.
WARDJet is an innovative and creative manufacturer of waterjet and abrasive waterjet cutting machines. We design and build machines for almost any automation need and offer customized options that allow you to set your imagination free. Because we control every phase of design and manufacturing, we are able to ensure precision and maintain strict quality control.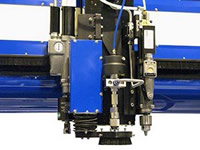 A waterjet cutting system designed by WARDJet will provide you with the most versatile CNC automation platform in the industry. Our cutting edge waterjet designs will provide you with the versatility you need and accessories that are easy to install at any time. Our in-house manufacturing capabilities allow us to build waterjet cutting machines to your exact specifications. Your waterjet will be expandable and upgradeable to meet the ever-evolving needs of your company.
The Build a Waterjet feature on our website allows you to create a waterjet cutting machine that best suits your business. Choose the waterjet model, pump, controller and options to build a waterjet cutting machine that meets your exact specifications. Select the functionality you require and scale the machine to your specific needs. Complete the online form and you will receive a customized quote from the WARDJet team for the waterjet you designed.
In addition, we have an online store with a large selection of waterjet parts to enable you to easily order consumables including orifices and nozzles. Please take some time to browse our website to learn more about the available options that WARDJet provides for waterjet cutting machines, CNC controllers, CAM software, waterjet abrasive recycling systems, and more. Watch our waterjet cutting videos and learn about every aspect of high pressure waterjet cutting in the Waterjet University section of our website.
Subscribe!
Subscribe to our newsletter for updates.

Waterjet Cutting Machine Catalog
Inifini Winder 5-axis Cutting Head Manufactured under license from Techni Waterjet
Pty Ltd of US Patent No. 8540552